Greeting
Since the foundation in 2003, we, NAVTEC Incorporation, have been serving our clients through conducting response to marine pollution, ocean investigation, repairs to marine structure, towing, etc.
What is needed now? What will be needed in the future? In order to be able to cope with the ever-changing needs of the times, we are trying to be "an always evolving company with full of challenging spirit."
I believe that human beings are the best resources of a company and that skills are the key to the development of the company. Our motto is "Sincerity, Improvement, and Challenge."
In an effort to obtain clients' approval and satisfaction, all our staff members are working together to better ourselves by cherishing human relations and improving our skills.
With the introduction of "a high-speed boat with the state -of-the-art equipment," "a remotely operated vehicle (ROV)," and "a multibeam sonar system," we will offer more fulfilling services to our clients.
We sincerely appreciate your continuing support and guidance.
Principles
We commit ourselves to our tasks as a company
trusted by our dear clients.

Each member tries to obtain more knowledge
and ability to offer better services.

We will never be satisfied about the present,
and always try to better ourselves
in this changing market.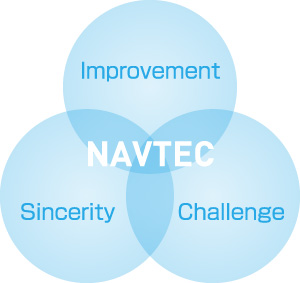 Company Profile
Company Name
NAVTEC Incorporation
Management
Representative Director Hiroyasu Hosotani
Founded
October 10th, 2003
Capital
JPY5,000,000.-
TEL
+81-(0)86-463-1881
FAX
+81-(0)86-462-5685
Address of Head Office
2429-73 Ikusaka, Kurashiki City, Okayama Prefecture
710-0002 Japan
Address of Tamashima Base
8255-37 Otoshima, Tamashima, Kurashiki City, Okayama Prefecture 713-8103 Japan
History and major performance
2003
Oct. 10th
Founded as a limited liability company, NAVTEC Incorporation
2004
Dec.
Engaged in the oil spill response and the refloating operations in a case where a tanker (5,000 tons) exploded and sank in Iyonada (sea of Iyo) in the Seto Inland Sea
Photo-1
2005
Feb.
Newly built a ship as the first of our own, named it "TAIKOU MARU No.1", and commenced its operations
2006
Jun.
Changed our trade name to NAVTEC Incorporation
Sep.
Introduced "TAIEI MARU" as the second ship of our own and commenced its operations
Dec.
Collected raw wood (6,500 logs) fallen overboard from a Russian cargo vessel off Niigata Prefecture in the Japan Sea
Photo-1 Photo-2
2007
Jul.
Newly built a ship as the third of our own, named it "TAIKOU MARU", and commenced its operations as the state-of-the-art multipurpose work boat, which enabled us to sail the coasting area A2 out of the Seto Inland Sea.
Due to the enlargement of the navigation areas, conduct oceanographic investigation, disaster prevention at sea, salvage of vessels in trouble, etc.
Dec.
Introduced "SACHI MARU" as the fourth ship of our own, and during the same period, commenced providing coastal shipping & towage services
2008
Jun.
Introduced "TAIKOU MARU No.5" and "TAIKOU MARU No.8" as the fifth and sixth ships of our own and commenced its operations
Oct.
Newly built a ship as the seventh of our own, named it "TAIKOU MARU No.3", and commenced its operations
2009
Jun.
Obtained a license to work as an industrial waste collector and transporter in Kurashiki City
Nov.
Conducted oil spill response in a case where a large ferryboat grounded and capsized in Kumanonada (sea of Kumano) off Mie Prefecture
2010
Sep.
Newly built a ship as the eighth of our own, named it "SHIN TAIKOU MARU No.3." Achieved the maximum ship speed of 50 knot
2011
Mar.
Removed the fuel oil from a vessel washed ashore by the tsunami caused by the Great East Japan Earthquake
Photo-1 Photo-2
Apr.
Commenced providing services concerning restoration of marine structures
May
Obtained ISO9001:2008 and JISQ9001: 200 approvals
Jun.
Introduced a remotely operated underwater vehicle (ROV) to extend the scope of our services to deep sea
Jul.
Introduced a multibeam sonar system to make three-dimensional photography and photography by side scanner available, which enabled us to provide services concerning search for sunken vessels etc.
Sep.
Introduced "TAISEI MARU" as the ninth ship of our own, which enabled us to provide our marine transportation services from Hokkaido in the north to Okinawa in the south
2013
Mar.
Conducted marine transportation of the structures for the Fukushima Daiichi Nuclear Power Plant damaged by the Great East Japan Earthquake
May
Together with our subcontractors, succeeded for the first time in removing the fuel oil from a sunken cargo vessel
Oct.
Obtained a license to work as a constructor in Okayama Prefecture
2014
May
"TAIKOU MARU" joined in the investigation on the active fault in the Japan Sea off Shimane Prefecture and Tottori Prefecture.
Jul.
Established SPRING STAR SHIPPING CO., LTD. as a subsidiary by separating part of our shipping department
Aug.
Obtained a license to work as an industrial waste collector and transporter in Okayama Prefecture
2015
Sep.
Newly built a 19t two-deck tugboat for the coastal water (A2 water area), as the tenth of our own, named it "TAISHIN MARU", and commenced its operations
2016
Apr.
The barge "NH-1" was introduced.
May
Obtained GREEN MANAGEMENT approvals
May
Newly built a 19t tugboat as the eleventh of our own, named it
"TAIYOU MARU" and commenced its operations
2017
Mar.
The barge "NH-KIBI" was introduced.
2018
Mar.
Newly built a 19t tugboat as the twelfth one, named it
"TAIKI MARU" and commenced its operations
Group Companies
SPRING STAR SHIPPING Co.,Ltd
IBEX Marine Co., Ltd. (IBEX for short)
Reliable Marine Service (Qingdao) Ltd. (RMS for short)
Member of
Nihon Engan Eisen Kaiun Kumiai (Japan Coastal Tug Association)
Kaijou Bousai Jigyousya Kyoukai  (Maritime Disaster Prevention Industrialist Association)
Kurashiki City Social Welfare Conference
Kurashiki Chamber of Commerce
Shoko Chukin Institute of Economic Research
Kurashiki Safety Driving Manager Conference
Permits and Licenses
License For The First Class Consigned Freight Forwarding Business License No. 261
Coastal shipping business registration No.0132
License For Ordinary Construction Business License No. 24357
License For Industrial Waste Collection & Conveyancer License No.1000149559
Tool Merchant Permit :

Permit from Okayama prefecture

Public Safety Commission Permit No. 721090017483

GREEN MANAGEMENT